Navy Rings personalized in a few easy steps using simple guidelines. The United States Navy is the seaborne branch of the US military. Its history is long and proud, but the navy did not come into its current prominence until World War Two. America's involvement in that war was the result of the surprise attack on Pearl Harbor. The Navy's role in World War Two was essential to the Allied war effort. America could not have won the war without the Navy and those who served in it.
And because of its size, superior technology and ability to project force far from American shores, the Navy is an even more potent power today. Several hundred thousand men and women currently serve in the US Navy, the largest and most sophisticated navy in the world. Those men and women are constantly on duty, defending our seas in peacetime and during war. We will never be able to repay them for their dedication. All we can do is show our appreciation. Navy Rings are a fine way to do this.
Navy Rings show Character
We honor all past and present members of the Navy for their strength of character. Their dedication and the ongoing sacrifices they make on our behalf is wonderful. Whether they work behind a desk, fly naval aircraft, or serve on a cruiser or other naval ship, we can thank them sincerely. Navy rings are beautiful symbols of the skill, commitment and dedication of Navy personnel.
Customized Navy Rings Reflects Service
Navy rings can also be more specific, designed to show a person's service in a particular fleet, flight squadron or specialty command, typically by using the group's heraldic coat of arms or crest. They can even be used to show service on a specific ship. Other Navy rings indicate that a person served during a particular war or armed conflict such as Operation Enduring Freedom, the Gulf War, the Vietnam War or the Korean Conflict. Still other types of Navy their owners' rank insignia, combat medals or other military decorations into their designs.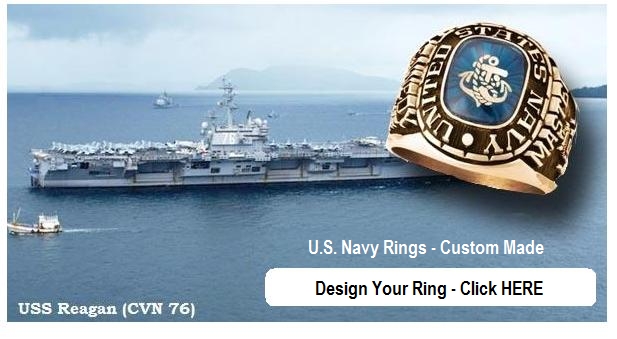 Once you've chosen the type of symbolism that's appropriate for a Navy ring, the choice of which type of underlying design to buy can be made. Navy rings generally follow one of three underlying design types. The first basic design is similar to a traditional school ring or class ring. This type of Navy ring has a semi-precious gem or colored stone set in the center of the top and symbolic designs engraved partway down the sides of the band.
These Navy rings sometimes have a central gem or stone but others do not, instead featuring engraved symbolic images on the metal at the top of the ring. The bands of this ring design are usually not decorated, giving it a strong but elegantly understated appearance. Our Navy rings, no matter which underlying design they use, are beautifully engraved with intricate detail.
All our Navy rings are available in your choice of sterling silver, yellow gold or white gold. And any Navy ring can be made even more special by personalizing it with the initials or name of its owner engraved on the band. But personalized or not, our Navy rings are inspirational